▊

Sliding layer materials TEFPLAS®

TEFPLAS® B is a standard sliding layer material. It combines high load bearing and wear resistance performance , suitable for hard shafts ≥HRC35 or hard anodized aluminum shafts.

TEFPLAS® G has excellent wear resistance, suitable for hard shafts or hard anodized aluminum shafts.

TEFPLAS® E FDA food contact safety materials, suitable for stainless steel shaft or aluminum shaft.

Materials

Friction coef.

dry [u]

Max. static load

[Mpa]

Max. dynamic load

[Mpa]

Max. PV

[N/mm2xm/s]

Max. Speed ,dry [m/s]

Operation temp.

[℃]


Continuous

Intermittent

TEFPLAS® B
0.10-0.25
20
10
0.7
1.5
4.0
±200
TEFPLAS® G
0.10-0.20
16
8
0.6
1.0
3.0
±200
TEFPLAS® E
0.05-0.18
12
6
0.4
1.0
2.0
±200
***For operation under extreme high temperature, it is necessary to consider increasing the fitting clearance to avoid stagnation caused by the high temperature expansion of the shaft and bearing. Please contact us.
▊

CSB-LIN® P Chemical resistance

TEFPLAS® materials stand up to harsh environments and provide excellent performance in a submerged condition. TEFPLAS® B: the fillers in the material can be attacked by deionized water and other harsh chemicals.
TEFPLAS® G and TEFPLAS® E : almost universal chemical inertness.
The standard shell material is anodized aluminum of CSB-LIN® P precision linear bearings: good chemical resistance in most industrial applications, 316 stainless steel shell are available for corrosion resistance in harsh environments
▊

CSB-LIN® P Factors affecting wear rate and life

Affecting the life of CSB-LIN®P precision linear bearings: surface roughness, hardness and dimensional accuracy of the shaft
Recommend shafts for the best performance:
●Shaft diameter tolerance h6-h7, suitable for all TEFPLAS® materials
●Surface roughness Ra0.2-0.4, suitable for all TEFPLAS® materials
●Surface hardness HRC50, according to different TEFPLAS® materials and the soft shafts are available
▊

CSB-LIN®P Eccentric forces

●Maximum 2:1 ratio
●1x =bearing separation on same shaft
●2x =distance from shaft to load or force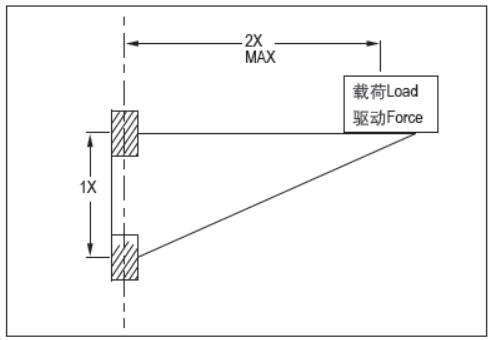 ●CAUTION: uneven motion or even system blockage will occur if the 2:1 ratio is exceeded !
This principle is NOT load dependent! It is NOT due to edge loading. It is also NOT dependent on the driving force used! The greater the distance between the drive and guide bearings, the higher the degree of wear and required drive force.
There may be other factors that add to the braking effect, but the coefficient of friction is the main cause.
NOTE: The Rule(2:1) is based on the static friction value of 0.25 theoretically, However, Additional lubrication can help to drop friction and extend the 2:1 ratio.
If you have any questions on design and/or assembly, please contact our application engineers.